Magnesium-lithium alloys (SanMaLia)
Magnesium-lithium alloys (SanMaLia)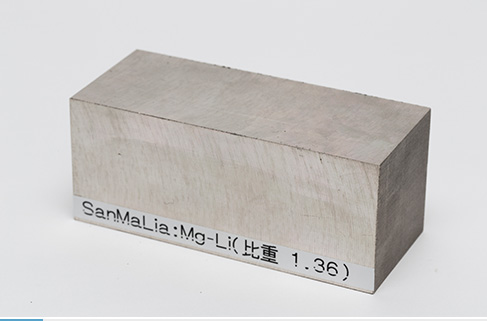 Santoku's lithium alloys
Through advanced techniques for handling active lithium, we are able to provide slabs and rolled sheets of alloys such as Mg and Al that are combined with various types of lithium which offer high quality, exceptional workability, high rigidity, high specific strength and an ultralight weight.
SanMaLia
Closing in on plastic, the world's lightest alloy
Magnesium-lithium batteries with exceptional cold workability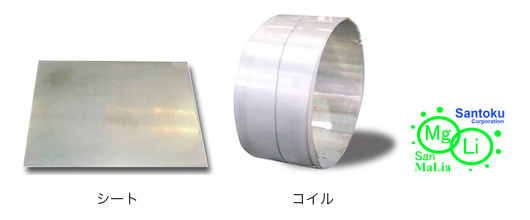 At this time, we have established techniques for melting, casting and rolling Magnesium-lithium alloys as well as developed ultralight SanMaLia alloy sheets that have exceptional cold workability.
Features
1. Ultralight weight

This Super-Light-Metal closes in on plastic in terms of weight.
・22% lighter as compared to magnesium alloys (AZ31)
・15% lighter as compared to carbon fiber reinforced resin (CFRP)

2. Cold workability

Cold work processing (press) is possible.
The cold press processing that is impossible with magnesium is realized through this.

3. Corrosion resistance

We have addressed the issue of corrosion that affects other lithium-based alloys with a corrosion resistance that surpasses AZ31.
Utilizing the technological know-how we have cultivated over the years for melting and casting, we have established manufacturing methods for the production of high-grade magnesium-lithium alloys.
Applications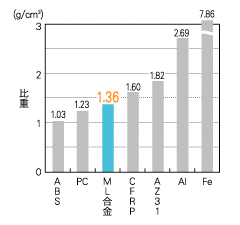 Chart: Specific gravities for various
For automobiles
For electronic equipment casings
Materials for welfare and nursing
Sporting goods, etc.