Employee introductions
Yukio Nakata
This is my job
Is the battery life of your smartphone or distance of your EV journey really up to us?
The majority of devices indispensable to modern life such as smartphones and hybrid cars are ran on lithium-ion batteries.
My job is to research and develop new cathode active materials to increase the lifespan and capacity of these lithium-ion batteries.
This means that the battery life of your smartphone depends on my research.
That's why I love this job! Recount your happiest moment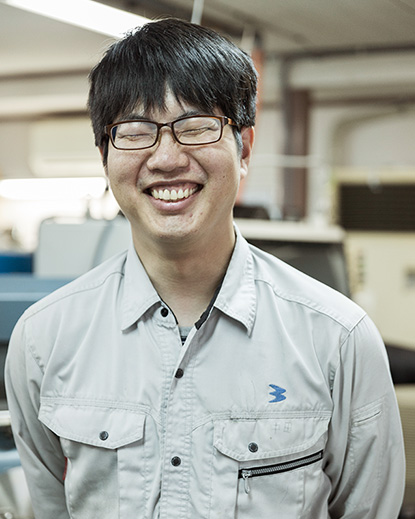 Discovering the joy of making something from nothing
When thinking about new materials or methods, there are some things which cannot be tried even at the lab.
I have run into this problem myself. How can I solve this issue?
Is there something I can do without using equipment? While asking myself these questions, I went through a process of trial-and-error.
And when I was able to figure something out using available equipment,
I remember feeling extremely happy.
Although it was a small device, because I made something from scratch,
I developed a fondness for the research that later used my discovery.
This had the effect of doubling my happiness.
This is it! The reason why I chose this company
Because this company is packed full of the things I want to do.
When I was at university I researched layered compounds.
Since lithium-ion batteries are also layered compounds, I became interested and started studying about them on my own.
Thanks to this, I became fascinated with rechargeable batteries and began looking for a company that worked with them when I started hunting for a job.
Among these, Santoku was much smaller than the others, yet still energetically engaged with rechargeable batteries.
Compared to other companies I visited, Santoku's R&D was closely connected with actual production, and during my interview I felt that the things I developed here would be quickly applied to actual production.
Due to this enthusiasm for rechargeable batteries and the attraction of having such a short interval between development and production, I decided to turn down the other companies and go with Santoku, even though I was still in the middle of the job hunting process.
One more reason I chose Santoku is that they deal in rare earths, which are substances that pique the interest of my inquiring mind.
I believe that rare earths still hide many undiscovered possibilities.
Sometimes I imagine things like what if in the future batteries using rare earths could...?, and so on.
What is your biggest failure that you can now talk about?
They say failure breeds success…but mine cost 500,000 yen
Soon after entering the company, I left a large Teflon-coated heater used for mid-range testing idling without applying a solution. Due to the heater's temperature the Teflon coating melted and peeled, rendering it unusable. As this was made-to-order, we were unable to conduct tests on it during this period, so I inconvenienced the whole research group until its replacement arrived. At the time, I apologized and everything was okay, but when the replacement heater our company bought came, I happened to see the bill was for 500,000 yen. As I had just entered the company, I remember going completely pale. After reflecting on this, I now take extra care to check on the coated heater. I have learned my lesson.