Lithium foil
Lithium foil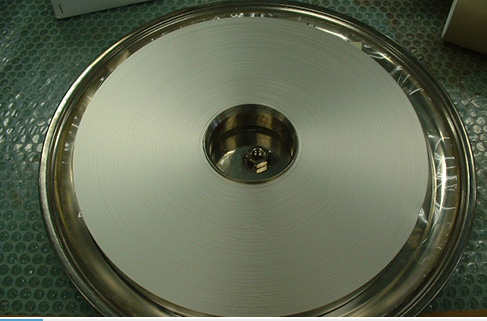 Lithium foil
Lithium is extremely soft and the lightest metal out of the 103 metallic elements (specific gravity 0.5). Silver-white in color, lithium reacts strongly with water and even at room temperature turns black when exposed to nitrogen. The foil is wrapped into a coil and packed in an inert gas state when shipped.
Applications of lithium foil
Lithium foil is mainly used on the anodes of cylindrical and button-type lithium rechargeable batteries. Depending on the battery's use, pure lithium and lithium-aluminum foil alloys are available.
Quality Standards for Lithium Metal Foils
| Li | Na | K | Al | Ca | Fe | Si | N |
| --- | --- | --- | --- | --- | --- | --- | --- |
| ≧99.8% | ≦0.02% | ≦0.01% | ≦0.01%~5% | ≦0.02% | ≦0.01% | ≦0.01% | ≦0.03% |
Foil measurements and allowances
| Thickness | 0.10~3.00mm |
| --- | --- |
| <1mm | ±0.01mm |
| >1mm | ±0.015mm |
| Width | 7~75mm |
| <40mm | ±0.2mm |
| >40mm | ±0.5mm |